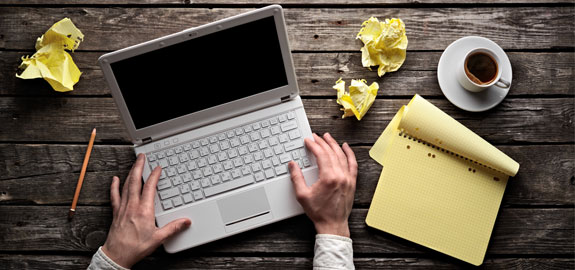 Writing
How to Become a Writer Starting Today with 5 Steps
helped me reflect on how naive I was when starting to write seven years ago. I didn't know much about writing and publishing, and worst of all – I didn't know what I didn't know, which was a lot.
There are certainly benefits to being unaware of pitfalls and the downside of an adventure before tackling it head-on, but it's not always necessary to learn them the hard way. To help other writers who are just getting started, here are the six things I wish I knew when I first started to write.
You're Going to Suck at First
As a child, the first time I rode a bike without training wheels or my mother holding onto the back of the bike, I went head-first into a tree. That's not just an analogy; that's what actually happened.
Don't expect your first novel to compete with Stephen King, or for your first article to be magazine-worthy. I was too stubborn to consider myself a beginner and the fall back down to earth when realizing my skills weren't up to par was painful. Give yourself time to fail and work extra hard to make sure you are trying your best and getting feedback from others.
Trolls Do Exist
In my early writing days, there was nothing more exciting than seeing an email with the subject "You've Received a Comment on…" I would anxiously open the email and click the link to view what
grand insight
was posted on one of my articles.
"You're an idiot! You don't know anything this!""This site needs to get better writers. This is amateurish at best.""I make $2,000 a month working from home…"
Trolls and spam will flood the comment sections of your articles. It took several months before I decided to turn comment notifications off. After growing as a person and a writer, I've now turned them back on and try to comment on every piece of feedback I receive. Embrace these comments as interactions with your writing, and remember that trolls exist. Want to feel a little bit better after reading a harsh comment on your article? Go to a popular YouTube video and read the comments. You'll quickly realize that the comments on your article weren't so bad.
The Importance of Harsh Criticism
I would publish content to thousands of strangers, but I was afraid to ask for the help of people I knew. You're not going to improve if you don't constantly ask for feedback and work to improve on articles even after they've gone live. Don't wait for critical article comments to improve your writing. Seek out the best writers you know and the most critical people you know to give feedback on your posts.
Tip: Make sure to provide value back to the people who help you with your writing. Consider interviewing them for an article related to something they have an expert opinion on or writing an article for their website or blog.
Making Money
I started writing to make money. While I knew I wouldn't make much, I was too focused on the financial aspect of writing to realize that creating quality content doesn't always mean bringing in money. Many of the most successful and profitable posts are celebrity gossip and polls about what Spice Girl you most resemble.
There are many benefits to writing. Have a mission and goals for your writing that doesn't depend on money. I write to help others, develop my writing skills, build my personal brand, and to learn.
Proof is in the Proofreading
Proofreading is an odd form of torture. Similar to watching myself on video, I get uncomfortable reading my writing, even if I know it's good. I used to push out content that wasn't properly proofread just to avoid reading it again. This is irresponsible and will ruin your credibility and any desire the audience may have to read another article from you in the future. Consider paying an organized and qualified virtual assistant to review your work. It's worth the investment.
Tip: I use grammar software
Grammarly
. It does not detect all errors, but it helps point out potential issues and makes helpful recommendations.
Readers and Social Shares Aren't By Chance
Becoming a writer is similar to starting a business. You can't just create a product and expect it to sell itself. I thought that just publishing an article on a website was enough. The best and most successful authors have either mastered promoting their content or hired someone who has. While working on becoming a better writer, spend time promoting your articles using available tools and resources (social media, blogs, email marketing, etc.). Don't spend hours writing an article only to neglect promoting it. Make sure people can find what you're writing.
What do you wish you knew when starting to write?__________________________________________________________________
Interested in Why I'm Publishing 365 Times in 2015? Read the first post of 2015 here!
Want to be a part of my series? Share topic ideas or volunteer for an interview in the comments below.
Michael Luchies
is the Founder of TrepRep, Director of Content Programming for Pursuit,
Interview Editor for
Under30CEO
, Entrepreneurship Lecturer at Illinois State University,
TEW 2 contributor
, and writer of all things entrepreneurship. Connect with Michael on
Google+
,
LinkedIn
,
Facebook
and
Twitter
.