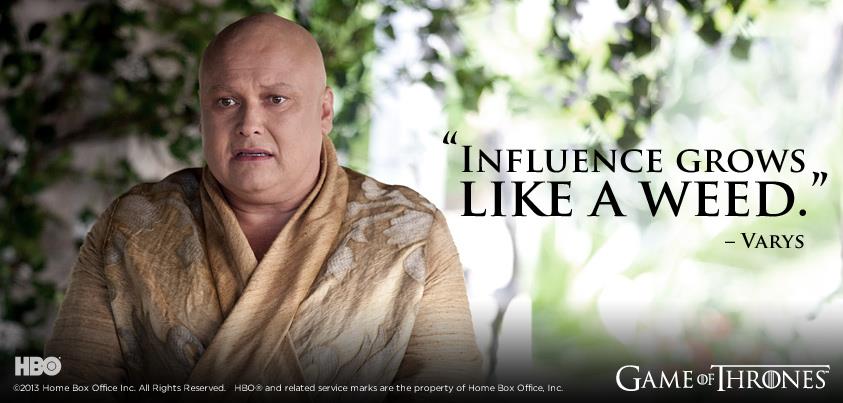 The most powerful and influential leaders, celebrities and entrepreneurs in the world transcend their niches and industries. You don't have to be a sports fan to know who Michael Jordan is, nor a fan of Microsoft to know who Bill Gates is. Similar to how these celebrities have risen to become influencers, the television show Game of Thrones (GoT) has exceeded the standards set by their fantasy television predecessors to heavily impact pop culture on a large scale.
After their first season on HBO had
averaged 2.52 million
initial-airing viewers an episode, the series pulled off the rare feat of significantly increasing viewership year after year. In the fourth season, which ended in mid-2014, GoT averaged 6.8 million viewers on the initial-airing night, becoming the most popular show in the history of HBO.
GoT has developed the above mentioned following by telling a unique and wildly entertaining story and keeping the viewer on the edge of their seat. They have provided the best show of its kind and been able to build on their legacy week after week. The popularity of the show has grown like a weed, and according to Varys -- so does influence.
Influence is powerful. "Michael, you inspired me to…" is the most invigorating and exciting sentence that anyone could say to me. Not only does influence grow like a weed, so does the want and need to influence and inspire others in a positive way once you get a taste of making this type of impact. Since starting my quest to publish every day this year, I've received several comments and messages stating that I was the reason someone else took action to write more frequently. It's a great feeling to have inspired someone, even in a very small and insignificant way.
By influencing others, they pay attention more deeply and engage with you on a greater level. Because of their engagement and interest, you start to work harder and smarter to make a bigger difference. GoT didn't get lazy with their storylines or character development, they worked hard to increase the quality of the show. I plan to do the same with my articles to increase the chances of positively impacting my readers.
The beautiful part of influence is that everyone can have an impact on others. You don't have to be a social entrepreneur, teacher, preacher or wildly successful television show to influence others. While most of us will never have 6.8 million people interested in what we're doing, being an inspiration to others is a powerful tool, and one we should work towards enhancing. Here are seven techniques for growing your influence.
Exceed Expectations
Employees, leaders, and businesses keep their jobs and reputation by meeting expectations, but they create influence and grow by exceeding them. You don't get applause for doing your job; you earn the appreciation and respect of others by going above and beyond when no one is expecting it.
Make an active effort to deliver more than what is expected of you every time. Using this strategy as a freelancer has earned me dozens of repeat customers, unsolicited tips, and one of the highest feedback ratings among thousands of freelancers who provide a similar service.
Tip:
Don't go out of your way to under-promise just so you can deliver more than what was promised. Find tangible ways to provide more value. The unexpected gesture builds credibility and a stronger relationship. Think of it as bringing a rose to give your date before going out to dinner. The dinner was expected, but the rose, although a small gesture, may stand out more because it was unexpected.
Listen
How often do we actually listen to others? Hearing comes naturally to most of us, but listening is a completely different skill. Listening includes hearing details that other people would gloss over and giving additional thought to what's behind the spoken words.
Tip:
Start by trying to remember the names and details of everyone you meet. Remembering the names of people you meet, their families, what they like, and other pieces of information will earn their respect and show them that you are listening.
Stay Top of Mind
Don't let people forget you exist. Find ways to stay relevant in the minds of those you want to keep as contacts.
Tips:
Send monthly updates of what you're working on. Meet monthly for coffee. Setup a get together for people who share common interests.
Provide Value to Others
Think about your best friends and favorite products. Why are they your favorite? There are outliers, but our closest friends and favorite products are our dear to us because they provide us with value. Every relationship you have should be beneficial to both people. Unfortunately, with connections and people we meet, we often force ourselves to remain friendly and act like we should just stay in contact because we think we should, not because it's a beneficial relationship. You can put an end to relationships without value by providing value to others.
The more value you provide to others the stronger your influence. This doesn't have to be time intensive or extreme, but finding a way to benefit others is a valuable skill.
Tips:
Introduce contacts that would greatly benefit from knowing each other. Make recommendations to others facing a problem based on your area of expertise.
Spread Your Wings
You won't inspire anyone if you don't get off of the couch. Get involved in events, give back, and strive to improve yourself. What steps can you take today to begin making an impact on others?
Tips:
Write an article, get back in touch with someone you've been meaning to reconnect with, volunteer to speak at a local event.
Be Vulnerable
The above mentioned quote comes from a scene where Varys tells Tyrion Lannister the story of how he was maimed as a child, and later shows how he took revenge on his tormentor. The conversation raised the profile of Varys to Lord Lannister and made him relatable and likable; increasing his influence.
Being vulnerable is an important part of being a leader, and someone people respect. If you're too hardheaded and tough to show that you are human, how will anyone be able to relate to you? Admitting you can be flawed and being willing to share failures with others will earn respect and the admiration of those you are leading or trying to impact.
Tip:
Watch 4 Powerful Things Leaders Should Know About Vulnerability
Additional read
:
10 Strategies To Grow In Your Influence With Others