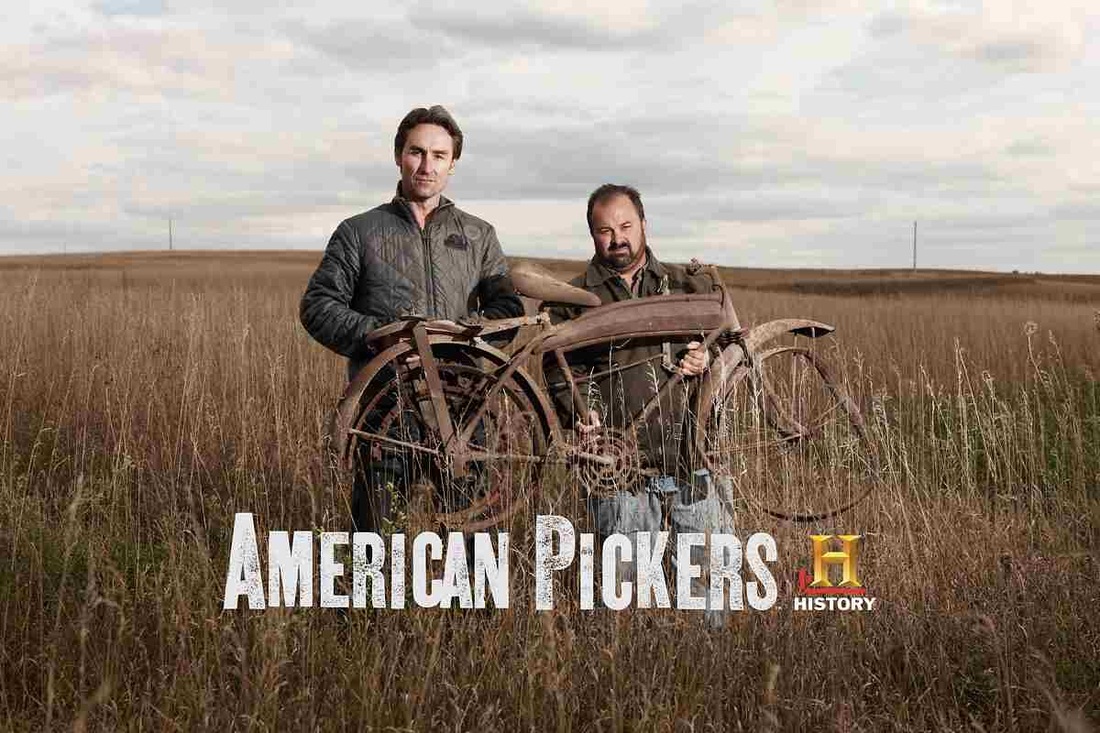 History Channel's American Pickers brings me back to my childhood days of junk hunting with my dad and selling antiques at flea markets. I love a good deal, but negotiating is not something I've ever been comfortable with or good at. I've always been more comfortable paying more for something than going through the painful process of haggling for the lowest possible price.
For American Pickers' Mike Wolfe and Frank Fritz, their living depends on being top-notch negotiators and fighting for every last dollar. If you haven't seen the show, the pair drives around the country visiting collectors and hoarders to find antiques and unique items to buy and resell in one of their two shops. As an entrepreneur and needing to have a good handle on my finances, I've been pushing myself to improve as a negotiator.
After watching several seasons of the show, I've picked up many techniques that I can apply to different aspects of my life and career. Here are 7 negotiation tactics and sales techniques I learned from American Pickers.
Breaking the Ice
Establishing initial trust to build off of is important in business situations. When visiting a new location to find antiques to buy, Mike and Frank put a lot of importance on 'breaking the ice.' Their first purchase is often the hardest, but after it's made each additional deal is that much easier. Since they are often visiting someone's home without being invited, agreeing on an early offer can be the difference between a profitable day and an invitation to get the heck off of their property.
How can you build rapport early on to make others feel comfortable doing business with you?
As a writer, I have an easier way to start a relationship with a potential customer than a door-to-door salesman, but by finding out ways to relate to others and start a relationship, you'll be much closer to a sale or other desired outcome.
Bundling
The concept of bundling has been used in the corporate world for decades because it works. Just as a cable company or insurance dealer offers you a discount for purchasing multiple plans or services, Mike and Frank often get better value for their buck by pairing several items together and negotiating a fair overall price. This give-and-take approach helps each party feel satisfied and get a little more out of a deal. How can you add extra value to a customer by bundling?
Don't Waste Time
Time is important even when sorting through someone's trash. There is a careful balance between talking and being friendly, and not wasting time you can't get back. Be conscious of your time in any negotiation, as your value decreases with the more time you spend on any deal. This may mean conceding a little bit up front to reach a deal sooner to avoid a lengthy process.
Stay Away from Attachments
Change is difficult for anyone. When someone
really
doesn't want to get rid of an item, it's best to move on instead of forcing them outside of their comfort zone.
In a negotiation, look for signs that someone is completely unwilling to change or attached to an aspect of the deal. If they are attached, you may have to bend on a part of the deal or forget it altogether.
Knowledge and Storytelling
Mike and Frank know their antiques, and it's their greatest asset. Knowing what they are looking at and telling the story behind each item they are looking to buy from an owner helps ensure that they are giving a good deal and helps them connect with the other party.
Don't try to sell something you aren't familiar with. Know your product or service and how to talk with anyone and everyone about it.
Look for 'Smalls'
The Pickers don't go for the biggest item at every place they stop. Some of their most valuable purchases are small items that can be turned around quickly for several times what they paid for it. Don't try to hit a home run with every sale. Sometimes you are better off settling for less than going for it all and failing completely.
Setting Up for a Return
Customer service is vital to the Pickers' business. They treat every customer with respect and set up their return with each person they visit very carefully. One of the ways they can accomplish this is by being honest even when they have a chance to get a steal of a deal. One sale is great, but getting return customers is much more important. Think of ways you can not only close a deal, but have your customer excited for the day you return.
Learned anything interesting from American Pickers or other reality television shows? Share below!__________________________________________________________________
Interested in Why I'm Publishing 365 Times in 2015? Read the first post of 2015 here!
Want to be a part of my series? Share topic ideas or volunteer for an interview in the comments below.
Michael Luchies
is the Founder of TrepRep, Director of Content Programming for Pursuit,
Interview Editor for
Under30CEO
, Entrepreneurship Lecturer at Illinois State University,
TEW 2 contributor
, and writer of all things entrepreneurship. Connect with Michael on
Google+
,
LinkedIn
,
Facebook
and
Twitter