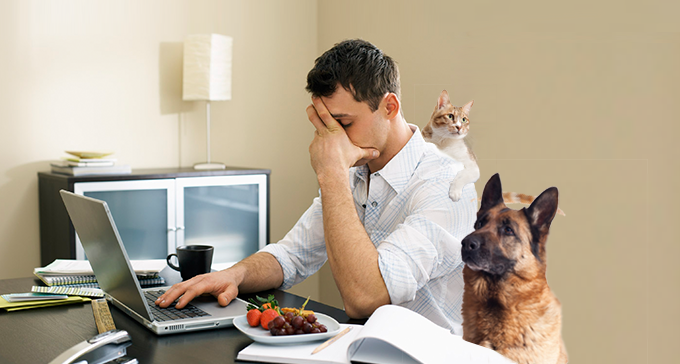 After graduating from Bradley University in 2011 with a degree in entrepreneurship, I had a tough decision to make. I could move to Chicago and accept a job with an entrepreneurship-based nonprofit, or stay in the Central Illinois region with my then girlfriend (now wife).
I both needed and wanted the job, but I hated the thought of going to an unfamiliar big city. Due to the very small staff and virtual nature of the work, I was able to take the job and work virtually, which allowed me to save money while starting a new career. I was also excited about the opportunity to create and control my work environment.
How hard could working from home be? I wouldn't have anyone to bother me, and I could choose how I wanted to work and from where.
Within the first week, I realized how hard it was. Staying focused and engaged in my work was difficult without other employees around or daily social interactions. Unproductive minutes gave me a sick feeling that I was taking advantage of my situation, so I put in extra time. I would let the stress get to me so much that I would get extremely tired and take naps during the day and spend nights making up for the hours I had lost, and then some. I quickly turned into a stressed out workaholic.
What happened to the ideal situation I thought I was walking into?
The thought of working from home being awesome and easy isn't an uncommon thought, but it's far from the truth. Don't get me wrong -- I would take the roughest days of working remotely over the best days in a cubicle, but if not handled properly, it can prove to be more difficult and stressful than a structured, yet mundane workplace controlled by your employer.
After trying hundreds of tips and tools to help with scheduling, stress and my daily work routine, I was able to implement some basic standards into my work day and discover what works for me and what doesn't. It's still a work in progress, but I'm at a very comfortable place with working out of my home.
I recently transitioned from the nonprofit position I held for four years to
strategic consultancy Pursuit
. While still a virtual work environment, just like each physical workplace -- there are significant differences that I'm encountering for the better.
Using all of my experiences as a remote employee and freelancer, here are my top 8 ways to survive working from home.
The first key to working from home is to (occasionally) get out of the house. Plan days or at least a couple of hours a week to work in a remote location. Find a co-working space, coffee shop, or library where you can comfortably work and enjoy a change in scenery. I spend at least a day every week in a local coffee shop.
Experiment with Your Environment
Everyone has different motivations, pet peeves, and skills. My wife needs a spotless work area to be effective. For me, it's important to limit distractions. Play around with your office and work environment to find out what works and what doesn't.
I am a failure at scheduling. Don't feel bad for me, I don't try to make a living organizing the lives of others, but I did hire a virtual assistant to help me with this task. Scheduling will help maximize your productivity and keep you on the tasks that matter the most.
Tip:
Make sure to schedule breaks to stretch, grab a cup of coffee, or take your dog for a short walk during the day.
Eliminate Excuses and Distractions
Working from home mashes your personal and work-life together. All of the chores, bills and daily activities you are responsible for are just a few feet away from you, which can be stressful. You're also surrounded by an environment you created to be relaxing and fun. You didn't buy your Xbox or 60-inch television to help you work, you bought them for fun. Take time to complete all of your chores the night before your workday and don't try to work from your living room unless it truly helps you be more productive. Getting as many distractions away from you as possible will help increase your productivity and separate you from tempting and time-wasting activities.
Most of the best places to work keep their employees fresh and engaged by getting them out of the office and into other places and activities. Participating in or attending in-person events have a tremendous impact on my work. Each time I go away for an event, I come back with fresh ideas and am 2x as productive the next week. Find opportunities to attend events relevant to your work. Check
Eventbrite
and other event websites to find local activities that are in related fields.
Stimulating, But Not Distracting Entertainment
There is a thin line where stimulating entertainment turns into a distraction. While I can tune out the words of sports talk and it helps me stay productive throughout the day, having TED talks on in the background or Sportscenter on TV has the reverse effect.
Tip:
Try listening to classical music or the instrumental versions of the type of music you enjoy.
Most workplaces don't want you eating at your desk. Take your lunch break as a lunch break, and sit somewhere you can decompress and recharge. This will also help you avoid ruining computers with water, coffee, and spaghetti (I have done all three).
Using anything from a sticky note to project management software like
Asana
, you can better manage what you need to do on a daily basis. Make sure to be reasonable with what you can accomplish and separate tasks based on their importance. You might not be able to get everything done today, but what are the 2-3 tasks that would relieve you the most if you got them out of the way?
Working from home might not be right for everyone, but by focusing on what works for you and eliminating distractions, anyone has the capability to work effectively outside of a standard workplace environment. Even for a significant pay raise, I wouldn't trade my home office and coffee shop visits for a traditional office. If you are transitioning into an at-home work environment, just remember to give yourself time to adjust, and experiment to find what works for you instead of trying to squeeze your work style into a mold that won't fit.