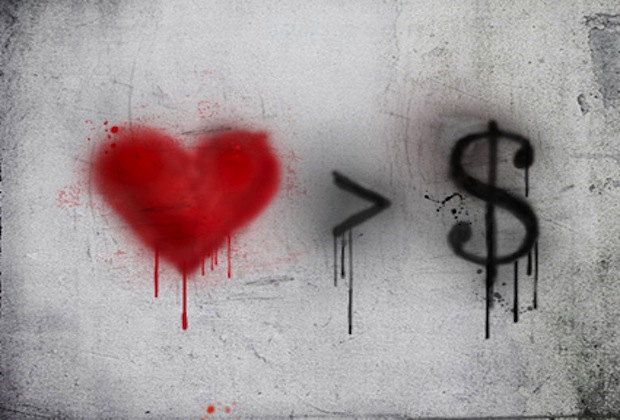 I realized the importance of pursuing your vision and passion instead of money after receiving my report card in the second full semester as an accounting and finance double major. I couldn't care less about spreadsheets or filing taxes for a living, but I thought that this choice would help me reap financial benefits. The report card said that my passion for accounting and finance was at about a 1.75 level on a 4.0 scale.
After meeting with my academic advisor, who knew that my passion was for entrepreneurship, I moved closer to my vision of helping others through business by changing my major to match my vision. The money would come one way or another, but chasing money would get me further away from what I really wanted and what would help me make a positive impact on the world.
Entrepreneurs often face this same harsh reality. We get so swept up in the potential rewards of what we're working on that we lose sight of our vision and what we want our legacy to be.
It takes a lot of confidence and grit to defy both odds and common sense to create change instead of settling for what exists. But, when this stubbornness turns into greed, you go from Elon Musk to Al Capone.
Al Capone and Elon Musk are both examples of influential entrepreneurs, and many would argue, both examples of gangsters. Elon and co-founders aren't called the '
Paypal Mafia'
for nothing, right?
While Al Capone set out to close the gap between his reality and the American dream, Musk is pursuing a better reality for the world.
Musk states
, "For me it was never about money, but solving problems for the future of humanity." The differentiating factor that separates those who fail like Capone, and those who succeed like entrepreneur Elon Musk, CEO of
Tesla Motors
and
SpaceX
, is their vision. Just look at the mission statements of Elon's two companies.
SpaceX
: To revolutionize space technology, with the ultimate goal of enabling people to live on other planets.
Tesla Motors
: To accelerate the advent of sustainable transport by bringing compelling mass market electric cars to market as soon as possible.
Musk is driven by positive change. Capone was driven by greed and the pursuit of money and power.
I'm not inferring that if you set out to impact the world positively you'll be successful. But I am saying that without a clear vision and mission that aligns with your passion, you may end up falsely chasing greed, or with a 1.75 out of 4.0.
__________________________________________________________________
Tomorrow's Post: How to Network with Content
Interested in Why I'm Publishing 365 Times in 2015? Read the first post of 2015 here!
Want to be a part of the series? Share topic ideas or volunteer for an interview in the comments below.
Michael Luchies
is the Founder of TrepRep, Director of Content Programming for
Pursuit
,
Interview Editor for
Under30CEO
, Entrepreneurship Lecturer at Illinois State University,
TEW 2 contributor
, and writer of all things entrepreneurship. Connect with Michael on
Google+
,
LinkedIn
,
Facebook
and
Twitter
.