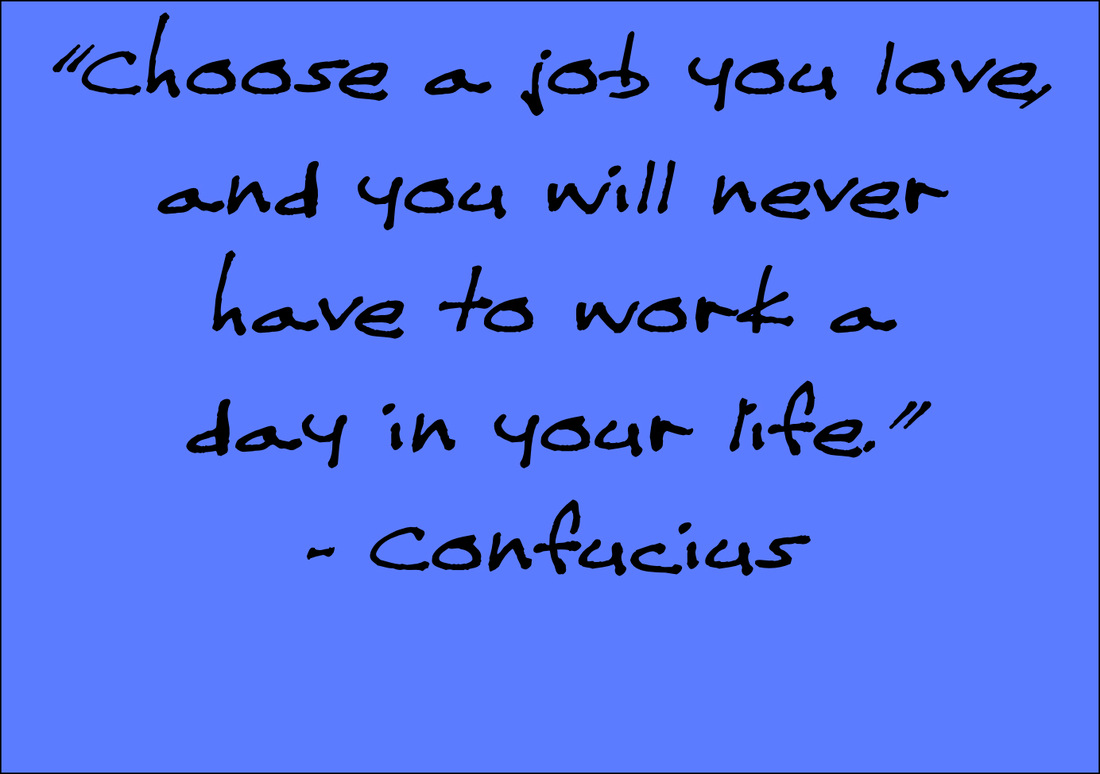 For those of us who are active on social media, avoiding the shared words of wisdom from historical figures and celebrities is an impossible task. I don't usually think twice about a quote that I've seen before, but this one in particular has been popping up everywhere, even in the comments on several of my posts. I couldn't help but think of the trap many of us fall into when "choosing a job we love," so I decided to dive into the difference between job and occupational happiness.
This quote comes from Confucius. For those in the crowd who don't know his historical significance (don't worry, I didn't remember either), Confucius, a Chinese teacher and philosopher, was a brilliant leader whose words still make an impact 2,500 years later. Many quotes from his work are now shared to gain followers on social media. I am sure he would be very proud. On a serious note, Confucius influenced an entire way of life (Confucianism) and made an impact on hundreds of millions, if not billions.
We live in a much different world than what existed in 500BC, but many people tend to believe this quote has always been, and remains to be true. In my article
Why Passion Makes Work Harder
, I covered why doing work you're passionate about is not a walk in the park. You don't half-ass things you love -- you work hard, long hours, and usually at a very high and efficient level. Although the joy of the work distracts from some of the negative aspects of 'work,' it still takes your time and energy and is done for money.
In addition to a job you love not being work, I disagree with Confucius' assessment of a job bringing us happiness. Stating that choosing a job you love will result in never 'working' a day is completely false because jobs are much different than an occupation that we're passionate about.
Occupational Happiness
Your occupation, or the focus of your work, should come from your passion. It's your passion that drives your work input and output. If you hate being a doctor, you're probably not going to perform the best surgeries (sorry for the grim example).
Being extremely passionate about finance could make you an excellent accountant, but whether you are happy or not working at Pocket Protector Finance Corporation doesn't depend on whether you are interested in the nature of your work or not. If you love finance, you can start your own company, consult other firms, and yes, be very happy even at Pocket Protector Finance Corporation if the company and position align with your wants and needs in a job.
Job Happiness
Happiness within a specific job is determined by you, your surroundings, pay, emotional well-being and other factors. This includes relationships with co-workers, bosses and the commpany. Just because you can't stand your job due to a difficult boss, it doesn't mean you don't love the type of work you're doing.
I recently made one of the toughest decisions in my life – to leave a job where the focus, people I helped, and general nature of it was everything I ever wanted. I was passionate about the work we were doing, but I let the 'job' get the best of me. I no longer loved the position, but my passion for the focus of the work never left.
I never knew I could love the nature of my work so much while feeling beaten up and discouraged on a daily basis by the job. Maybe I just needed a change. I'm not the only one who gets burned out due to an environment or employer that has nothing to do with the occupation. After all, there's a reason the average worker stays in a job just
4.4 years
.
What do you think? Am I on to something here or just nitpicking on the words that Confucius used to get across the point that the enjoyment from pursuing your passion will make work seem like play?
I hope Confucius doesn't mind, but I decided to reword his words of wisdom. "Follow your passion and the days of your work will enhance the change you make in the world, and your enjoyment of it."
__________________________________________________________________Tomorrow's Post: How Being Stubborn Can Ruin Your Business
Interested in Why I'm Publishing 365 Times in 2015? Read the first post of 2015 here!
Want to be a part of my series? Share topic ideas or volunteer for an interview in the comments below.
Michael Luchies
is the Founder of TrepRep, Director of Content Programming for Pursuit,
Interview Editor for
Under30CEO
, Entrepreneurship Lecturer at Illinois State University,
TEW 2 contributor
, and writer of all things entrepreneurship. Connect with Michael on
Google+
,
LinkedIn
,
Facebook
and
Twitter
.