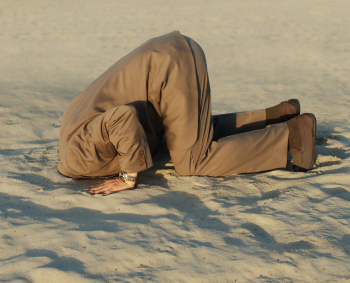 This post has legs of its own, but consider reading yesterday's post:
If You Will It, Will It Become?
ob·liv·i·ous
"not aware of or not concerned about what is happening around one."
My first date in high school revealed how bad I was at picking up signals from others. I went with Megan, my sophomore-year girlfriend, to a play at our school's auditorium. It was winter and cold outside, but warm in the auditorium. About 30 minutes into the play, Megan said, "I'm so cold." Without missing a beat, I replied "well, put your coat back on." It wasn't until two days later when her best friend made fun of me when I realized what I had done – or not done.
How could someone be so oblivious?
Have you ever gone days, months, or years without knowing something that everyone else knows, and you just
happened
to never hear? It's not chance or luck – it's failure. You failed by not getting the information you needed to recognize something that the market (or majority) around you already knew. Entrepreneurs, husbands, wives, idiot boyfriends on their first date (me in the story) and the rest of us do this regularly, but you don't have to be oblivious, and honestly, can't afford to when it matters most.
In the
first part of this series
, we looked at trying to force things to happen that weren't meant to be by looking at an entrepreneur, Michael Somers of
internrocket.com
. Michael, with the help of a mentor, made the right decision to step away from a business that was trying to push technology onto its potential customers, to focus on the business that was a 'market pull,' where customers were falling into it because it had the proper product/market fit. While forcing an unwanted product onto an unsuspecting customer base is one way to fail, being oblivious to obvious signs that are available to you is another point of failure that deserves attention. I'm not saying my high school relationship ended because I didn't put my arm around her, but being oblivious to obvious signs has hurt me in personal and business relationships.
Difference between Stubborn and Obvious
There is a distinct difference between being stubborn and being oblivious. In my dating example, I was completely oblivious to the situation. I wasn't refusing to listen to her and rejecting her very subtle request for a little warmth, I just didn't understand all aspects of the situation or collect enough information to get a clear picture of what was going on. Entrepreneurs have this same problem.
The Oblivious Entrepreneur
Young Millennial entrepreneurs, myself included, are the most likely to fall into the entrepreneurial pit of the oblivion. We are inexperienced and naïve, but confident, and passionate more than we are careful and well-researched.
We want to get shit done -- not wait for other people to create it. There are success stories even for those who lack the sense to fully gauge what they are getting into, but the chances are slim, and this success isn't easy to repeat.
My examples:
I've spent tens of hours working on a business that already existed, and it wasn't doing well while being much better than the version I had the capacity to build. About twenty minutes of research would've prevented this situation.
I spent several months working on Stub Exchange, an in-game sporting event ticket swapping business. While getting other people together to help build a MVP (minimum viable product) version of the business, we discovered that the areas we planned to launch the service in had laws that would completely prohibit what we were building.
I once lost my entire website (Stubs4Sale) because of a glitch without knowing it was even possible. I thought the host site had the proper backups in place – I was wrong, and was forced to sell off my inventory to help pay for school instead of trying to spend the time to rebuild it.
Being an oblivious entrepreneur and obtaining success is like completing a corn maze with a blind fold. Being stubborn enough to pursue your dreams when everyone tells you not to is one thing, but being unaware of the dangers, marketplace, competition, and needs of the customers is a nearly sure way to fail.
Avoiding Oblivion
There are always excuses when you're carelessly oblivious:
I didn't know any better! Nobody told me. Everyone told me it was a great idea. I really thought it would work. The dog ate my homework.
No more excuses!
The first step to avoid falling into this trap is to hold yourself accountable and start realizing that what you don't know is more important to figure out than what you do know. Once you discover your weaknesses, you can actively work towards filling that gap with new knowledge and skills or adding someone with those talents to your team.
So I don't know how to pick up signals from a woman, what can I do? Well, become good friends with a woman who can provide me insight, poll 50 women, read a book, ask my mother…that may be awkward, but you get my point. Find the information you are lacking and work to actively become more aware of your surroundings. Don't go into class without having read the syllabus, book, online materials, and without asking classmates what's going on – be prepared to succeed.
How can you be oblivious-proof as an entrepreneur?
If you're starting a business, you can become oblivious-proof by creating a deep relationship with your future customers and someone who has done it before and can help guide you – a mentor. Even in non-business situations, consulting with someone who has done it before and the target market of the product/service/etc. is the best route to find out what you need to know, and avoid not getting laughed at by your girlfriends best friend for not putting your arm around her.
For a great read about working consistently to make things happen instead of forcing them into existence, check out
Daniel DiPiazza's
How the top 1% actually makes progress
.
Also, check out this great piece from Ross Beard on
19 Strategies to Get More Feedback
.
__________________________________________________________________
Vote for Tomorrow's Post! What Should I Write?
Interested in Why I'm Publishing 365 Times in 2015? Read the first post of 2015 here!
Want to be a part of the series? Share topic ideas or volunteer for an interview in the comments below.
Michael Luchies
is the Founder of TrepRep, Director of Content Programming for
Pursuit
,
Interview Editor for
Under30CEO
, Entrepreneurship Lecturer at Illinois State University,
TEW 2 contributor
, and writer of all things entrepreneurship. Connect with Michael on
Google+
,
LinkedIn
,
Facebook
and
Twitter
.