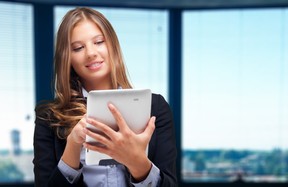 Reading about the businesses of my peers and how to better start and grow my ventures has become an obsession of mine. Success stories, interviews, startup showcases, fundraising announcements, lists of top 10 XYZ for entrepreneurs – I try to consume it all.
Online media exposure for startups and young entrepreneurs is much easier to come by than it was just five years ago. There are hundreds of websites that highlight and showcase Millennials and their businesses regularly, but even if you're like me and love reading about entrepreneurship and young entrepreneurs, you can't read them all. I'm breaking down my top 10 media websites for young entrepreneurs to follow and read.
Criteria:
Core focus of publication (specific focus on young entrepreneurs is a bonus), reach, contributing influencers, and strength of articles and information.
Full Disclosure
: Due to my affiliation with
Under30CEO
, I removed them from consideration when creating this list.
#10. Small Business Trends
Not a very strong community feel, but solid information and a constant stream of content with good coverage of topics. Categories include marketing & social, management, finance, advice, and technology.
#9. Rich20Something
An underdog on the list compared to the more well-known websites listed, but Daniel DiPiaza's 'Tribe' is an engaged group of young entrepreneurs who have helped create a unique place to gain inspiration, advice, and support. Daniel's informative and inspiring long-form articles paired with his ability to share his personal failures and stories is as entertaining as it is helpful.
#8. TechCrunch
A tech-based entrepreneur's media playground. TechCrunch covers events, startups, apps, mobile tech, and more. Their focus is more on the world of technology than providing resources to young entrepreneurs, but the breadth of topics and coverage of events and innovations makes it a valuable place to visit on a daily basis.
#7. Forbes
30 Under 30 lists are great, but overall, Forbes doesn't have a strong voice with young entrepreneurs and their engagement among this group is weak. It's not for lack of trying, but Forbes will always feel like a resource geared towards baby-boomers, not Millennials.
#6. College Startup
For young entrepreneurs, by young entrepreneurs. College Startup has quickly gained traction, released the first magazine covering college startups, and spread to several cities outside their home base of New York. They cover startups, young entrepreneurs, and events.
#5. YFS Magazine
Young, fabulous and self-employed, and well-written with an attractive interface and intriguing articles and stories are geared at young professionals and founders.
#4. Mashable
Mashable is getting a little too big to have a strong following in niche areas like startups, but they still offer a lot of value to young entrepreneurs by providing resources to and stories from the startup world.
#3. YEC/Startup Collective
Powered by the Young Entrepreneurs' Council (YEC), Startup Collective has some of the best content from the best and brightest young entrepreneurs you can find. Scott Gerber has created a masterful community of business leaders and entrepreneurs, and they are fully engaged when it comes to sharing their message and expertise with the world.
#2. Inc.
With Coolest College Startups and the 30 Under 30 list of America's Coolest Young Entrepreneurs, Inc. provides a younger look into the world of entrepreneurship and tells the stories of young founders gaining traction. While this may be more cool than helpful, I'm buying what they're selling.
#1. Entrepreneur
Entrepreneur has been able to succeed where Forbes has failed – in attracting and keeping the attention of Millennial readers while having strong entrepreneurs as contributors. They continue to be a content powerhouse and have a constant stream of startup information and resources. They are the top dog by a wide margin, even for a younger generation of business owners.
Honorable Mentions
:
Business Pundit
,
YSN
,
StartupNation
,
GenFKD
,
Medium.com
, LinkedIn,
Gigaom
,
Hubspot Blogs
,
VentureBeat
What's valuable to your entrepreneurial journey? Post yours in the comments below.
__________________________________________________________________
Interested in Why I'm Publishing 365 Times in 2015? Read the first post of 2015 here!
Want to be a part of the series? Share topic ideas or volunteer for an interview in the comments below.
Michael Luchies
is the Founder of TrepRep, Director of Content Programming for Pursuit,
Interview Editor for
Under30CEO
, Entrepreneurship Lecturer at Illinois State University,
TEW 2 contributor
, and writer of all things entrepreneurship. Connect with Michael on
Google+
, LinkedIn,
Facebook
and
Twitter
.