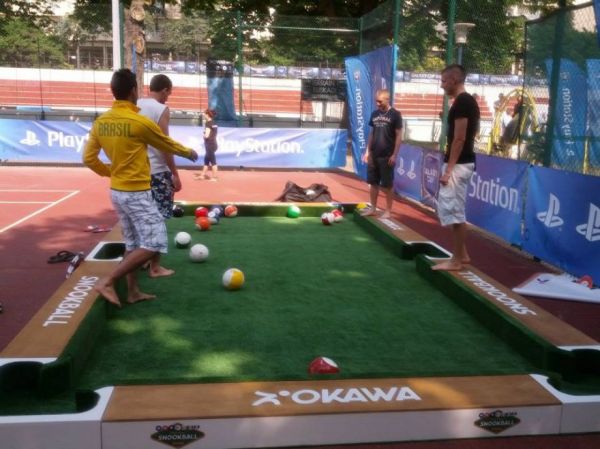 "A good idea is worthless without impeccable execution and a commitment to iterate." – Zach Klein, Co-Founder of Vimeo
My face started to turn bright red as I got a sick feeling in the pit of my stomach. I put down my computer, walked out of the Starbucks I was working out of and yelled at the top of my lungs.
Although I am a passionate sports fan, I've never had quite this type of reaction after a visit to
ESPN.com
. It wasn't a loss by my favorite team I was upset about; it was much worse. I witnessed the idea I dreamed about for years come to life in the hands of someone else.
Ideas
Ideas are completely worthless without the proper time, care, and a visionary who can bring them to life. Even with the knowledge that a stagnant idea lacks value; missing out on an opportunity that crosses your path is not easy for anyone.
Weeks before I discovered my once faded dream turned into a reality in someone else's hands, I heard the story of an underachieving baby boomer who talked about several innovations that he felt were 'stolen' from him over the years. Even though he never acted on one of his ideas that were created by others in later years, he felt he was owed something. I vowed to never be that person, but I would soon face that test.
Before getting into the details, I think it's important to clarify my position on ideas and the reason I'm sharing my story.
Ideas are thoughts. Thoughts are shared. Those who act are rewarded.
I take full responsibility for not pursuing my ideas and dreams. My goal in sharing this story is not to impress you that one of my ideas was so crazy it worked, but to encourage you to pursue your dreams instead of waiting for someone else to grab them.
Ideas are Thoughts
"I've got it!" After over a decade of pursuing business ideas and failed startups; I knew I had an idea so crazy it was genius -- Kick-Pool!
As someone who can't stop thinking about inventions and possible business empires, I think of new venture ideas on a daily basis. I know very well that most of them will fail, and even less of them would be appropriate for me to pursue, but that doesn't stop me from pursuing them.
My concept for Kick-Pool was to take the game of pool/billiards, and make it life-size. The table would be brought to the ground and allow players to kick the balls instead of using a cue. It wasn't rocket science, but it was fun, creative and different.
Thoughts are Shared
This was one of those ideas that made me jump out of my seat and call everyone I knew to share the news and get their feedback. I'm not one to keep my mouth shut when I start thinking about a new business. I worked hard to build a network of amazing young entrepreneurs that are willing to help. How can I utilize their knowledge and experience if I keep ideas to myself?
My stance on sharing ideas is to ALWAYS share them. Many young entrepreneurs are hesitant to share the crazy idea they came up with, but this adds no value to you or others. Share ideas so you can get guidance and support from others. If someone happens to 'steal' your idea, it's because they were prepared to execute faster and better than you were.
I was working for the Collegiate Entrepreneurs' Organization (CEO) at the time with
Katie Sowa
, who is now the Director of Community Engagement for Future Founders Foundation. She was the first person I would turn to with new business ideas and was always just a Google chat away. I dug through emails and chats to find some sort of proof to back my claim. Here is what I found.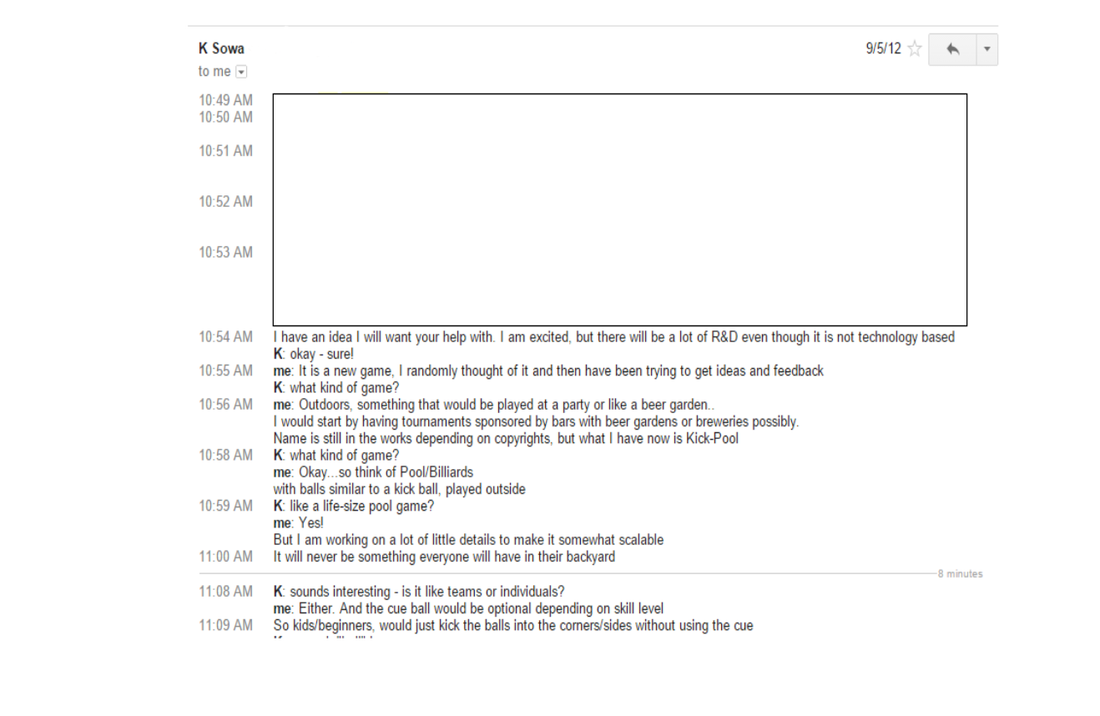 As you can see by her response, Katie was not impressed. But, it wasn't just her. My wife, brother, parents, friends, and others all gave a very hesitant and lukewarm response. Instead of seeing this as a sign that I may be on to something that is different, I took it as a clear sign that maybe it wasn't meant to be. As I look back, it's not that it wasn't meant to be. It just wasn't meant to be me, because I didn't take action.
Even months later I couldn't stop thinking about Kick-Pool. I told people about the idea and constantly daydreamed about friends and families playing the game in backyards, but I gave up far too easily.
Those Who Act are Rewarded
Behold the game of
Snookball
! A couple of creative French entrepreneurs took a soccer-like approach to billiards, and are now growing the game worldwide. To their credit, they were able to take a wild idea and execute it perfectly. Although I don't know when the game was invented, Snookball started to get heavy media attention in November of 2014.
Watch the ESPN video that nearly made me cry here.
Lesson Learned
Back to my emotional outburst at Starbucks. It was 5 degrees outside, but I had never felt this warm. After stepping outside and letting out a yell and expletive, I grabbed for my phone. I called Katie Sowa, even during her workday, to explain this tragedy.
Me:
(incoherent mumbling)..Do you remember…(more mumbling and expletives) a business idea I had several years that I was really excited about?
Katie:
You mean Kick-Pool?
Me:
YES! SOMEONE ELSE DID IT!!!
Katie:
Really? I didn't think it was that great of an idea.
Even though I knew it was my fault and I had no one to blame but myself, it was a tough pill to swallow. I gathered my pride and walked back into Starbucks to finish my workday.
About four days later, I got a package in the mail. It was from Katie.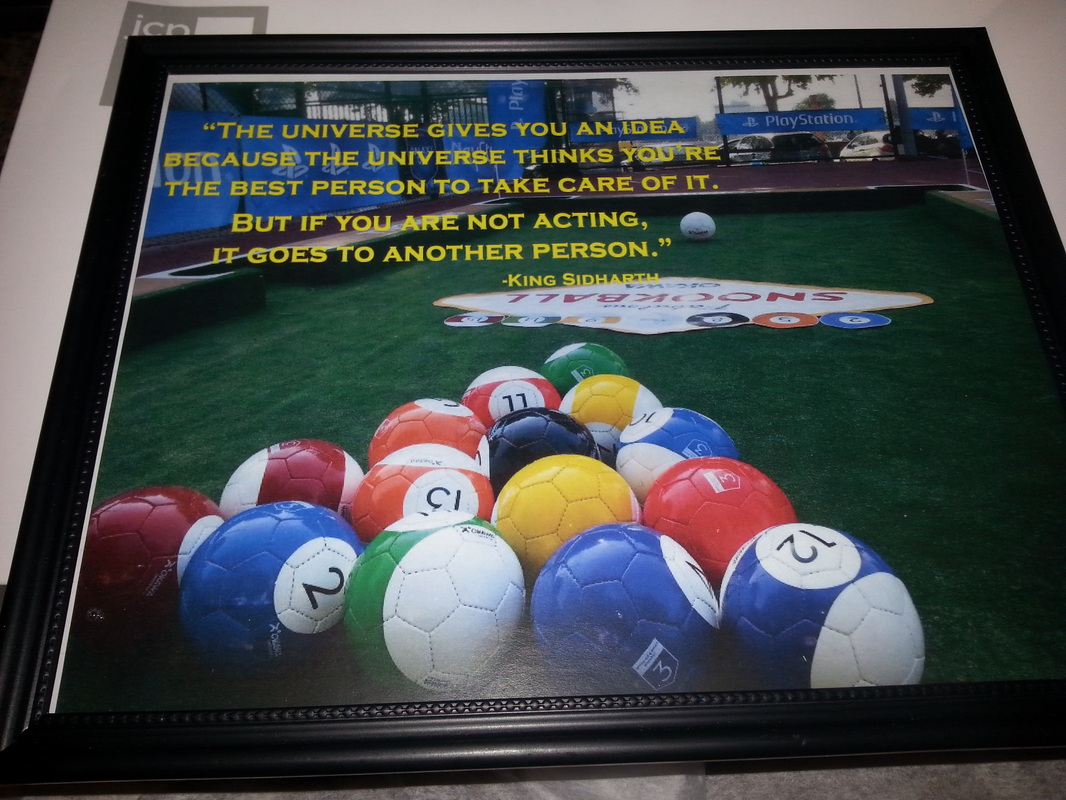 "The universe gives you an idea because the universe thinks you're the best person to take care of it. But if you are not acting, it goes to another person."– King Sidharth
This picture now hangs in my home office right next to my desk as a constant reminder that if I don't capture my dreams, someone else will. Don't let your Kick-Pool turn into Snookball. Go out and grab your dreams by the balls.
__________________________________________________________________
Interested in Why I'm Publishing 365 Times in 2015? Read the first post of 2015 here!
Want to be a part of my series? Share topic ideas or volunteer for an interview in the comments below.
Michael Luchies
is the Founder of TrepRep, Director of Content Programming for Pursuit,
Interview Editor for
Under30CEO
, Entrepreneurship Lecturer at Illinois State University,
TEW 2 contributor
, and writer of all things entrepreneurship. Connect with Michael on
Google+
,
LinkedIn
,
Facebook
and
Twitter