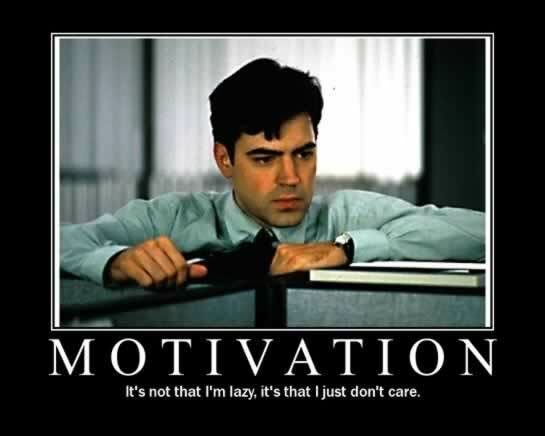 There is a common misconception that people who are passionate and enjoy their jobs aren't really working -- that the joy from the job and their ability to turn passion into production makes everything easy. The truth is, passion makes work harder and results in you working harder, not less.
On a previous post,
7 Reasons I Freelance for Less Than I'm Worth
, a commenter (thanks
Madrice
!) posted "Very interesting read! When you do what you love, you never work a day in your life." I appreciate the comment, but I don't agree with Confucius who is credited with this quote. When you do what you love, you work harder!
In one of the quintessential movies about life in a cubicle,
Office Space
,
Peter Gibbons
hates his job and comes to terms with this hatred while seeing a therapist.
"So I was sitting in my cubicle today, and I realized, ever since I started working, every single day of my life has been worse than the day before it. So that means that every single day that you see me, that's on the worst day of my life."
After leaving in a transformed state of mind due to the therapy, he no longer stresses about his awful job and opens up to superiors about not wanting and not doing any work each day.
"The thing is, Bob, it's not that I'm lazy, it's that I just don't care."
Peter has no passion, and no interest in doing any work. This doesn't necessarily cause the nature of his work to be easier, it causes him to not care, and because of that lack of passion for his job, he doesn't put in any effort.
If I didn't enjoy writing about small business, branding and entrepreneurship, I wouldn't have even thought of trying to publish an article every day of 2015. Sure, I could have shrugged off the idea and made a more reasonable goal, but the enjoyment I get out of sharing with others through writing and my passion for it led to a feeling of need – I had to do it. My passion led me to want to work harder, not work less.
During a recent interview with
ONE
CEO and inventor Michael Callahan, he stated, "If you have a dream you have to follow it. There is a number of people who don't, but if you do (have a dream), you have to go pursue it." The same can be said for passion. You can try to ignore and avoid it all you want, but what you're passionate about is bound to make a significant impact on your life and to drive you to work harder.
Doing something you're passionate about may come to you easier than others, but your passion doesn't allow you to do a half-assed job. You work your butt off to make sure it's done right and you enjoy doing it. But not working a day in your life because you chose a job you love? My wife begs to differ, and so do I.
What's your take? Does loving what you do make every day one without work?
__________________________________________________________________
Tomorrow's Post: If you Will It, Will it Become? An Entrepreneurial Dilemma
Interested in Why I'm Publishing 365 Times in 2015? Read the first post of 2015 here!
Want to be a part of the series? Share topic ideas or volunteer for an interview in the comments below.
Michael Luchies
is the Founder of TrepRep, Director of Content Programming for Pursuit,
Interview Editor for
Under30CEO
, Entrepreneurship Lecturer at Illinois State University,
TEW 2 contributor
, and writer of all things entrepreneurship. Connect with Michael on
Google+
,
LinkedIn
and
Twitter
.