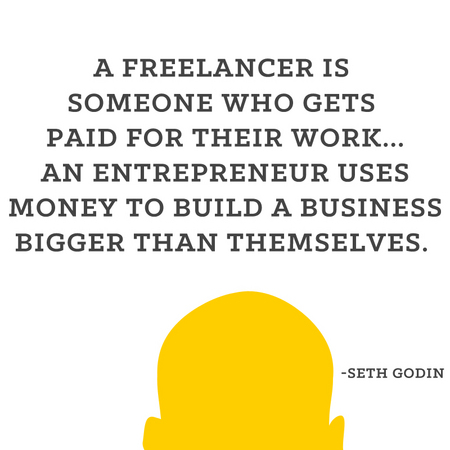 Are you stuck in a sea of W-9's, wondering how you can get from being a burned-out freelancer to a place where you can grow your business without needing to work more hours that you don't have the time to give?
As freelancers, we're employees, not entrepreneurs. We still have the freedom and control to be our own boss, but we're limiting our ability to grow and are not properly valuing the work we provide.
I never intended to become a freelancer, and especially not with writing. In fact, I used to hate and fear writing. When I started a small online business selling sports memorabilia back in 2007, I was forced to become a marketer, accountant, CEO, and more out of necessity. After writing to promote my business, I started to gain traction and develop an interest in writing about the topics I loved talking about. I branched out from just writing about my business to writing about other things I enjoyed. After a year and a half, I accumulated over a million page views and started to get emails from other small business owners asking if I could write articles to help them promote their business. Going from this point to an actual business has been years in the making.
Even as someone with relevant business and startup experience and a degree in entrepreneurship, I'm still learning. Making the transition from employee to entrepreneur is not an easy transition, but an important step for freelancers to make. I'm still in freelancer land, but my mindset has changed and I see some light at the end of the tunnel.
The start of our freelancing careers usually materializes out of necessity or a combination of our skills and passion, which leads us to create our own job instead of working for someone else. In my case, I gained an interest in writing and saw an opportunity due to businesses approaching me to write for them.
Most of us don't set out to become freelance designers, writers, or creatives -- it just kind of happens. We start freelancing because the skills we have and our interests combine to provide significant value to others.
I never thought in a million years I would write for money, but it happened. Most freelancers start out the same way, and after a while, we get so busy with our freelance work, it becomes a low paying and demanding full-time job.
Because I never intended to make a career or business out of my writing, I didn't view what I was doing as a business. I viewed it as something I could do in exchange for money on an hourly basis or per project.
So what's the first step in transitioning from freelancer to entrepreneur? For me, it was a change in mindset.
Where Mindset Comes Into Play
While talking to freelance writing coach and founder of the
Freelance Writers Academy
, Valerie Bourdeau, she said that the biggest challenge for freelancers is overcoming limiting beliefs. "We tend to get in our own way." It's easy to get into our own heads with thoughts like "I'm not good enough to earn this amount of money," or "I'm not as skilled as someone else." It's this mindset that keeps us as broke freelancers instead of being able to conquer our skills and mindset to turn what we love doing into a successful business.
What to Do Starting Today
Don't stop doing what you love, but stop being a freelancer. You are now the CEO of a business that provides services. Say it with me: "I am an entrepreneur." Say it out loud: "I AM AN ENTREPRENEUR!"
I turned my freelancing activities into TrepRep to help entrepreneurs market their businesses and personal brands through content. I believe in what I do, and know that if I want to expand the impact I can have on the world, it's through growing a business, not working as a freelancer.
Now that you're an entrepreneur, you have to start acting like it. Turn your hourly rate into projects you can sell as a product, and provide them at what they're worth, not what you think you're worth. After all, you have a business to run, not just yourself to support.
Treating all activities like a business is just the start, but a damn good start.
What's your best tip for other freelancers trying to become business owners instead of their own employee?
Additional reads:
Why freelancing is broke and how to fix it
__________________________________________________________________
Michael Luchies
is the Founder of
TrepRep
, Director of Content Programming for
Pursuit
, Interview Editor for
Under30CEO
, Entrepreneurship Lecturer at Illinois State University,
TEW 2 contributor
, and writer of all things entrepreneurship. Connect with Michael on
Google+
,
LinkedIn
,
Facebook
and
Twitter
.
Michael is publishing 365 times in 2015. To find out why, read the
first post of the year here
!