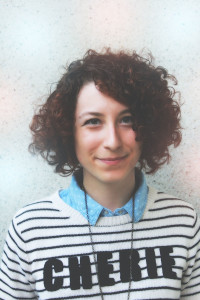 Listen to the full interview with Isabelle Rizzo here!
First coined in 1997 (weblog), blogging has matured rather quickly from being perceived as something people with a lot of time on their hands did to a necessary activity for entrepreneurs, traditional writers, and a tool for millions of freelance writers to make a living with. In the United States alone, there are an estimated
31 million
bloggers.
To discuss the importance of blogging to entrepreneurs, I interviewed Isabelle Rizzo, creator of
The BellaVie Project
and multimedia storyteller.
Everyone blogs for different reasons to accomplish different goals. I blog to improve my writing, engage my network, provide value to others, and to position myself as a content marketing expert. During our interview, Isabelle stated that she also blogs to position herself as an expert and writes online to help optimize Google (SEO) rankings, and to have content to share via social media channels.
With over 30 million bloggers, you're often competing in a saturated marketplace. That doesn't mean you shouldn't, but it means you have to provide something different. "You don't necessarily have to blog. Having and sharing a mailing list link on social media is another way to reach out to people. If you're just starting out, I recommend getting some content up on a blog to position yourself as an expert in a niche." By targeting a niche within your specific audience, it can help your search engine rankings and attract the customers you want for your business.
When asked if blogging or social media is more important for a startup, Isabelle clarified the roles of each. "Blogging is just another form of content marketing and social media is your delivery system."
Getting started is often the hardest part. When started to write, I looked to others for ideas and wrote about sports and aspects of my own business. Isabelle started by interviewing people she admired. The interviews helped her learn from others and engage her network, which has paid off in landing her jobs, clients, and a loyal fan base.
Additional Tips from Isabelle
:
"Share resources you find really inspiring."
"Blog about your adventures and also about your mindset before and after becoming an entrepreneur."
Utilize Google's Keyword Planner. Collect keywords to use as inspiration for blog posts.
If using Wordpress, use the Yoast plugin to see how your content is helping or hurting your SEO efforts.
"At the end of every blog post, I ask myself 'what is the purpose of this blog post?'" Make sure your work is helping you achieve your content goals.
About Isabelle Rizzo
Isabelle Rizo is a passionate multimedia storyteller in Travel, Education, Holistic Health, and Entrepreneurship. With experience in blogging, SEO, Wordpress, digital design, film production, and social media management - she brings the skills necessary in the 2.0 world of today to get stories shared and talked about.
She is also creator of The BellaVie Project, an online blog catering to empowering young millennial women on DIY Living, Entrepreneurship, and Travel. Sharing resources on a variety of subjects such as (the changing world) of education, traveling, and personal development. Connect with Isabelle on Twitter
@BellaVie92
.