No longer can I believe it's just a coincidence.

Moments after receiving a Facebook message from a student who was at a conference I spoke at this past weekend, I found myself trying to help him with his business. He didn't tell me he had a business and didn't ask for my help, but I felt compelled to offer. This was the message:

"I was at the MWEC 2015 and I wanted to say thank you for speaking, I got a lot out of it."

His simple compliment got an immediate response and an offer to help. Why did I feel so compelled to help him when he didn't ask for it?

I often try to go out of my way to help others, but this is not a random occurrence or solely due to my passion for working with other entrepreneurs.

There's an odd power of not asking for what you want, but it's difficult for me to define. Let's look at two other examples where avoiding asking for something resulted in getting what it was that person wanted.

Ask for Advice, Get Money

At the above-mentioned conference, young entrepreneur Cory Levy discussed startup fundraising among other things with attendees. One of his pieces of advice for students looking to fundraise was "Ask for money, get advice. Ask for advice get money."

Cory, who has helped ONE raise several million in funding from venture capitalists, got a soft commitment from his first investor due to a tweet where he was complaining about the cold.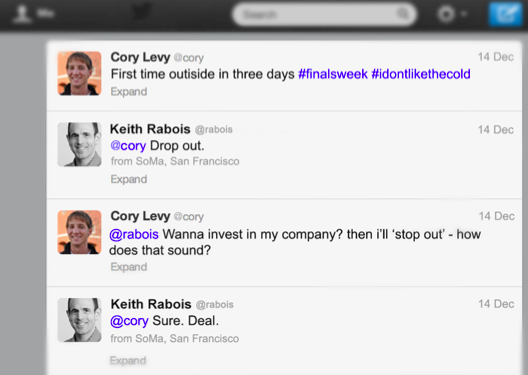 Cory went on to tell another story of a fellow founder who was struggling with fundraising. After over a dozen meetings of asking investors to invest in his startup, his business was still without anyone agreeing to invest. After being urged to approach each meeting asking for advice from the investor(s) instead of money, the next meeting resulted in an investment.
Better to Give Away Than Sell
As a passionate sports fan and an entrepreneur at heart, I've had many sports related business ideas and ventures. Since I frequently attended sporting events as a 20-something, I decided to try to make money buying and selling tickets to other fans.
After purchasing a large number of tickets for a Michigan State basketball game, I was stuck with around 15 tickets to a lightly attended game about 10 minutes before it was set to start. I kept lowering my asking price and even went as low as $5 each, which was far under face value. The tickets weren't selling, and I got to the point where I just wanted someone to enjoy the game for free.
As I started giving out free tickets, people started to give me money. In fact, I received more money in return for giving the tickets away than I received from the limited number of tickets I was able to sell.
I used to think this was just an odd occurrence and a fun story to share with friends, but I'm starting to doubt that belief.
More Questions Than Answers
This can't all be a coincidence, can it?
I've always been told that you don't get what you ask for, but what happens when you get what you wanted but didn't ask for it?
I don't have the answer, but there is an obvious power to not asking for exactly what you want or need in specific situations.
I'd like you to comment below, but I won't ask just in case I'm on to something.
--
Michael Luchies
is the Founder of
TrepRep
, Director of Content Programming for
Pursuit
, Interview Editor for
Under30CEO
, Entrepreneurship Lecturer at Illinois State University,
TEW 2 contributor
, Co-Host of the
Entrepreneurs on Campus Radio Show
, Co-Host of the
Trepidemic Podcast
, and writer of all things entrepreneurship. Connect with Michael on
Google+
,
LinkedIn
,
Facebook
and
Twitter
.
Michael is publishing 365 times in 2015. To find out why, read the
first post of the year here
!