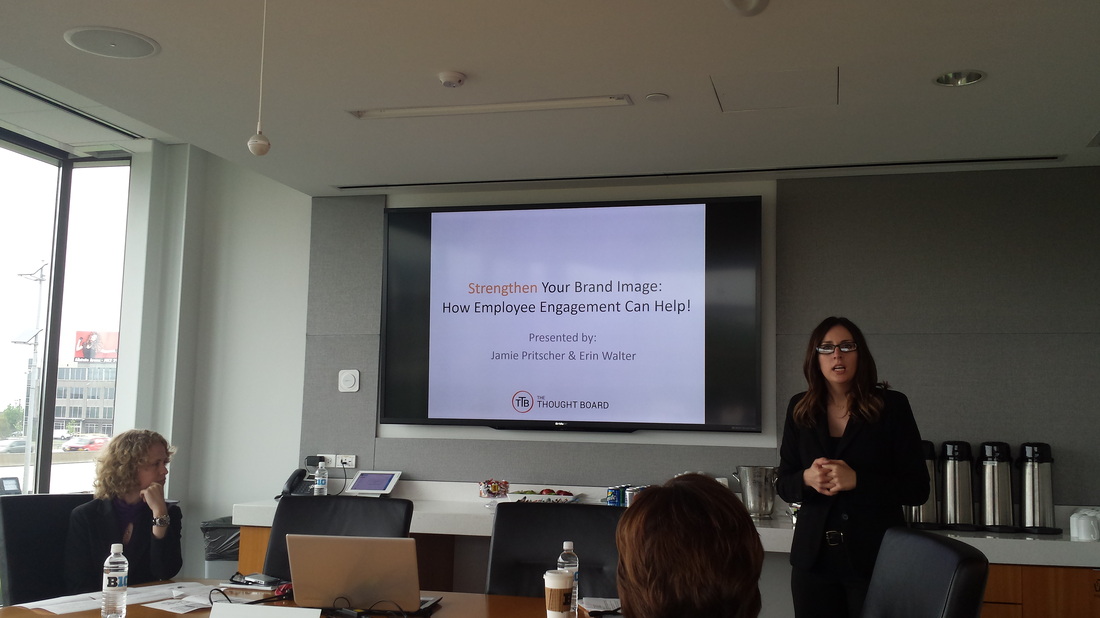 Nothing matches the energy and opportunity of an in-person event. From the potential to meet people to collaborate with to the chance to learn from and meet leaders you look up to, there's no worthy substitution for a well-planned physical conference. The only thing I enjoy more than attending valuable in-person events is sharing what I learned with others.
Today, I went with my wife to the Big Ten Conference's headquarters in Rosemont (near Chicago), Illinois for the
2015 STRENGTH Conference
hosted by
The Thought Board
. A dozen speakers and panelists shared their insight and expertise on how to exhibit strong leadership, financial management, corporate culture, marketing, processes, and public relations. Here are six things I learned during the event.
Make Your Customer the Superhero
M3 Learning's Tom Latourette used the brilliant video short
It's Not About the Nail
to show how salesmen (the man in the video), often try too hard to fix the problem they perceive instead of focusing on what the customer is saying. "Maybe our job isn't to fix the problem; maybe our job is to make the other person the superhero." When selling, put assumptions aside and cater to the stated needs of the potential customer. It's about their pain, not your solution.
The Importance of Being a Bilingual Salesperson
Sales pitches have to be altered to speak to the person we're selling to, but what happens when they speak a different language? No, I'm not talking about someone speaking French when you're speaking Spanish, but it can be just as difficult to sell to someone when you don't properly know how to speak to what motivates them to buy.
Tom provided the common scenario of a man needing to talk to his wife before making a purchase. While the salesperson was able to guide the man through the different stages of the process, it starts over completely when the man tries to explain it to his wife. It's like someone translating a language without really understanding how to do it. Offering to translate (speak to the wife) and learning how to sell in any language (to executives, secretaries, etc.) can help keep the sales process moving in the right direction.
Erin Walter and Jamie Pritscher of Nuphoriq, a creative marketing agency with a niche in catering, spoke on strengthening your brand. Erin pointed out that the two goals of brands are
strong brand recognition
and
top of mind awareness
. While I spend hours each week branding my business and I do have branding goals, not once have I thought of these specific goals as the desired result.
"When you have a strong brand it makes your job easier as a company."
Selling is easy when people already know what you offer and trust your brand. After several iterations and years of working on their brand, the Nuphoriq team landed on the right strategy when positioning their services and expertise that worked immediately. Asked by an attendee how to know if their brand needs a different/better position or strategy, Jamie said, "see if it feels right to you. We kept looking at it and thinking it's just not right...You don't know for sure until it works."
"Processes allow you to deliver creativity to the customer." - Larry Walter
Creativity is vital to all organizations, but it can be hurtful if the proper processes aren't in place. COO of Tasty Catering Larry Walter shared how employees have creative freedom to put their own touch on their job, but only within structured processes that the employees have a hand in creating. For example, an employee could decide to cook certain foods before others and box items differently, but if their changes lower the temperature that chicken is cooked at, this will break a process that could result in food that isn't safe to eat.
PR Can't Compensate for Weak Marketing Practices
Julie Baron
of Communication Works presented on how public relations can help businesses grow. My favorite takeaway from her talk was her thoughts on companies trying to cover up bad practices with press releases and twisting the truth. "PR is not about spinning," said Julie.
What's the most valuable lesson you've ever learned from an in-person event? Please share in the comments below.
--
Michael Luchies
is the Founder of TrepRep, Entrepreneurship Lecturer at Illinois State University, TEW 2 contributor, Co-Host of the Entrepreneurs on Campus Radio Show, Co-Host of theTrepidemic Podcast, and writer of all things entrepreneurship. Connect with Michael on Twitter. Michael is publishing 365 times in 2015. To find out why, read the first post of the year here!