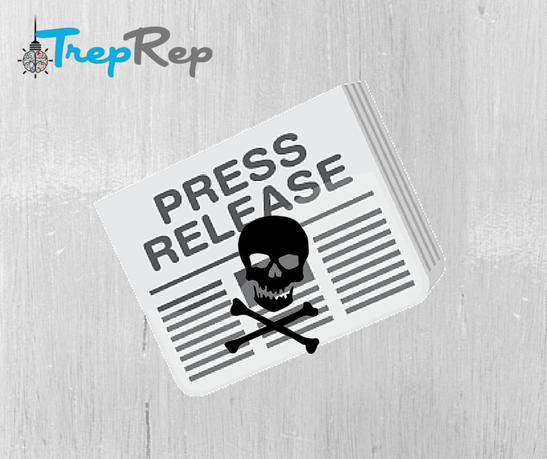 "The simple press release should have died years ago. In my mind they're dead already." -- PR executive Frank DeMaria.
May 14, 2015 – NORMAL, Illinois – Michael Luchies announces he dislikes press releases due to their lack of value and void of relevance.
Entrepreneur Magazine's Small Business Encyclopedia
defines a press release
as, "A public relations announcement issued to the news media and other targeted publications for the purpose of letting the public know of company developments." Developed from my years of writing press releases as an entrepreneur and writer, I have a slightly different definition of a press release.
An attempt to gain attention and media coverage by sharing self-promotional, outdated information to people who don't care about it.
The chances of you having read a press release top to bottom are probably less than the chances that you've published one. They've been a powerful tool for marketers and public relations companies for decades, but as our preferences shift and the technology we use improves our access to information, press releases are becoming the VCR of online media. Some people still use them, but there are much better ways to watch a movie (or to get your news out to people who actually want to hear about it).
Press releases lack personality, and they fail to connect with the reader. They're written as if a computer were the intended audience (and in certain cases it might be). With important news reaching us just seconds after it happens through Twitter, Facebook, and online news outlets, is information shared to us days or even weeks after it happens still relevant?
If your goal is to entice a media member to share the information to their network or write a follow-up piece on your company, good luck getting them to even open the email. In
Is It Finally Time to Bid Adieu to the Press Release?
, Dan Lyons recalls his time as a Newsweek reporter and the constant barrage of press releases.
Every morning, I'd find 50 or so messages in that Newsweek account, almost all of them press releases, virtually all of them things I did not care about. I'd glance through the subject lines and then zap them all (I'm pretty sure every other reporter does essentially the same thing).Getting media coverage is about relationship building. While spending two years as the Interview Editor for Under30CEO, I never once accepted an interview request because of a press release. I was sent dozens, but they rarely gave me the information I cared about -- the founders.
Press releases share information about sales, earnings, new CEOs, new locations, or something else that the company feels is newsworthy. They rarely cover the interesting aspects of companies that people can connect with. Instead of engaging readers, they shoot information at us hoping something will stick. Although they are trying to build their brand image with these efforts, I believe it often has the reverse effect, at least on those that see and read these hard to digest pages of information.
I am not recommending that any company stops creating content to promote their business, but I am suggesting that there are far better ways to get information out to news outlets, customers, and the public in an engaging and valuable way.
What To Do Instead:
Start a blog on your company website to share stories about your business.
Create a newsletter to share regular updates.
Focus on adding value to current and potential customers instead of just throwing information at them without any value (tips, advice, 10 ways to XYZ).
Build relationships with media outlets and reporters that will cover your company when you have something to share that is newsworthy.
Create whitepapers and case studies that people within your industry will gain value from.
Opposing View:
The Top 10 Reasons to Send a Press Release (PR Newswire)
Not sure how to create valuable content to promote your business? I can help you increase sales by connecting you with your audience through writing amazing content. Interested in finding out how? Simply comment "Message me Michael" in the comments below, or email me at
Luchies.Michael@gmail.com
.