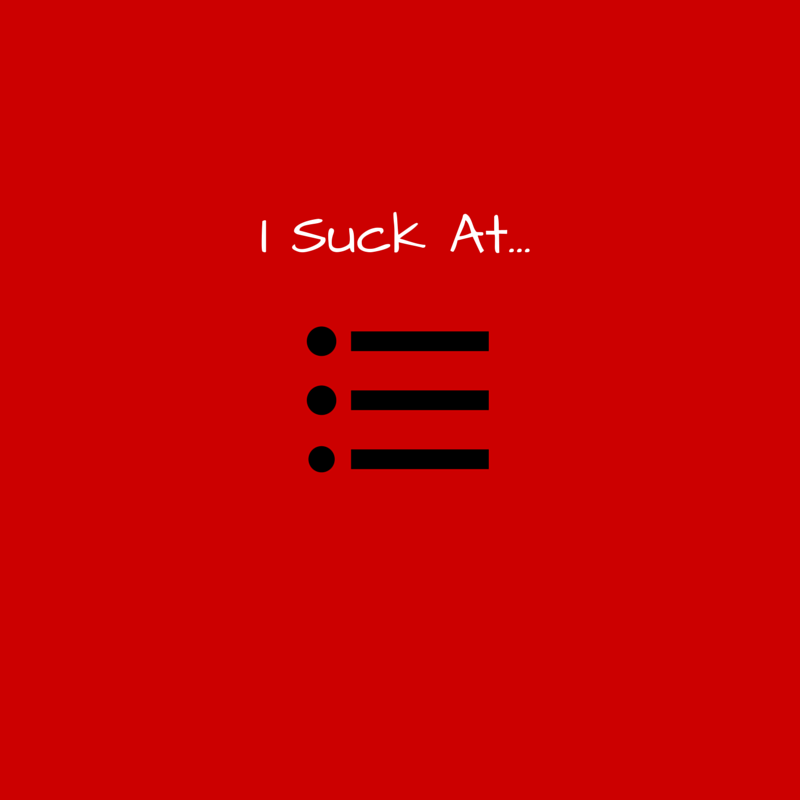 Face it -- you suck at something. More than likely, you suck at many things. Don't worry, I'm in suckville with you.
There's nothing wrong with being bad at something. In fact, knowing what you're bad at is a strength, not a weakness. By recognizing what you're bad at, you can better understand your strengths, work to improve on your weaknesses, and delegate tasks and work with others when you need to complete something that doesn't align with your strengths.
Most of us already have a good idea of the things we're not very good at, but since we only like to think of the positive things about ourselves by nature, we hide from our failures and weaknesses. I decided to create a list of things I suck at to help me concentrate on my strengths and find ways to improve on items I'm not good at. Here's my suck list (there's a lot more than four, but I'll keep it brief).
Picking Up Subtle Signals
Thank goodness I'm married. Picking up subtle signals, whether from a date or a peer at a networking event, is something I struggle with. While I'm not sure how to improve, knowing this helps me be direct in important situations, which helps the other party feel comfortable being direct with me. I also have learned to ask for clarification and to get a lot of second and third opinions from others to help me understand a situation where I may have missed something.
As hard as I try to schedule and plan ahead, I still struggle with planning and keeping to a specific schedule. It's like my rebellious side comes out every time I get a calendar update message in my inbox.
To begin getting on a consistent schedule (I still have a long way to go), I hired a virtual assistant (thanks
Ginger Elliott
) to create a weekly schedule that will work with my habits and preferences.
Defeating Anxious Procrastination
There are going to be a couple things on your suck list that you don't like to admit -- this is one of mine. Procrastinating when I'm anxious is as senseless as it is annoying. Instead of focusing on the one task that's due the soonest, I tend to focus on everything else instead until the last minute. To battle this, I try to schedule time consistently (which can be an issue since scheduling is also something I'm bad at) leading up to the due date to work on it and set personal deadlines before the physical deadlines are reached.
Is this on your list too? I bet it is.
Nearly half
of Americans get less than the required amount of sleep (at least seven hours). There are many ways to get more sleep, but most of us are too stubborn or wrapped up in our work or habits to get on a good sleep schedule. By actively recognizing when you're too tired to do anything productive, you'll start to get much-needed sleep and stay away from unhealthy habits, like watching several hours of YouTube videos.
Take a couple of minutes to make a list of what you suck at (hopefully you don't suck at making lists!) and several ways you can either improve or delegate those tasks to someone else. If only I could get someone to sleep for me.