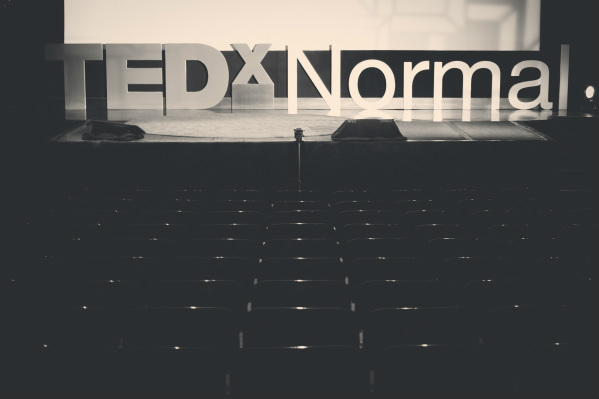 Now several weeks after the inaugural
TEDxNormal
(November 7, 2015 at the Normal Theater in Normal, Illinois), I've been able to wind down from the excitement from the event and reflect on the experience.
In addition to having the honor of presenting my talk on
The Importance of Being an Unselfish Storyteller
, I was able to meet with and learn from over a dozen other speakers from around the world (we had a Canadian so I can say "the world" instead of just the US – thanks Dr. Alex Bruton). I'd like to share my favorite ten quotes from the event.
"I'm sick of the classroom, but I still want to learn" – Kali Lewis
"It's about our repertoires, and innovation literacy isn't usually a part of our repertoires." – Dr. Alex Bruton
"The problem we need to be solving is how to help students get real value out of their education." – Jessica Tenuta
"The key to being creative isn't about how much you know, it's about how much you're willing to forget in order to make a new connection" – Dr. Jeffrey Stamp
"Sometimes the best stories don't come from being the loudest person in the room, but instead from saying nothing at all." – Kim Behrens Kaufman
"We don't get up to do the mundane. We get up to do the meaningful" – Lisa Bodell
"Don't die with your gifts in your hands." – Liz Flores
"The truth will set you free, but first it might break your heart." – Shira Abel
"Given that 2/3 of us are currently disengaged at work, doing things the way we've always done them is probably not the best way to go." – Jeff Havens
"If you choose to see mental illness as an asset, you open up a great opportunity to find happiness, more success, and serve the people in your life more effectively." – Mike Veny
On behalf of the other speakers, I'd like to once again thank organizer Dr. Doan Winkel and everyone who had a part in the event. Shortly, the videos will be released and we will share our talks with you. If you missed the lineup of speakers, presenters included:
Kim Behrens Kaufman, Lisa Bodell, Elisabeth Cardiello, Liz Flores, Michael Luchies, Ken Myszka, Jacqueline Boone, Deborah Halperin, Mike Veny, Kali Lewis, Dr. Irum Tahir, Dr. John Vozenilek, Shira Abel, Alex Bruton, Jeff Havens, Nicole Loftus, Jeffrey Stamp, Jessica Tenuta
Thanks again for supporting a great event! Stay tuned for further updates and opportunities to get involved.