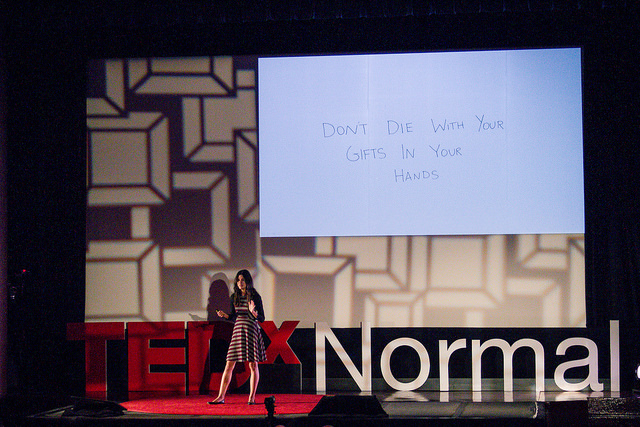 The first TEDxNormal event is in the books. Looking back on their experience, speakers shared their advice for other speakers for upcoming TEDx events held around the world.
We asked them the following question:
Q: What's one amazing piece of advice you would give to someone preparing to give their first TEDx talk?Lisa Bodell, "How Simplification is the Key to Change"
Have a clear story in mind – what is the key point you want to leave people with and why is that so important to you? What experiences made you want to speak on this topic? This will become the centerpiece of your talk and help you to better focus your messages.
Dr. Jeffrey Stamp, "What An Idea Needs to Survive"
Relax, you got this. Remember you are the master of the things you know in your head, the key will be can you master the things that come out of your mouth. For me, that required equal parts calmness to control my inner Ferrari brain to enjoy the ride and external practice in front of real people. It's one thing to practice your talk in your head, another to practice it out loud, but the real prep for TEDx is practicing it on your feet in front of real people and preferably with bright lights! The live experience you feel when your TEDx time happens is like trying to hold an 10,000 extra volts in your hands while you recite the alphabet backwards flawlessly.
Jeff Havens, "Why Aren't More Of Us Engaged at Work?"
Practice a lot, even if you speak for a living. I do, and I haven't been that nervous on a stage for a long time. The more you practice, the less you'll worry about what you're going to say and the more you can focus on how to deliver it effectively. For what it's worth, I practice while walking around the neighborhood. I've found that people don't bother you when you're talking to yourself in public. Even homeless folks don't ask for money. Give it a try!
Michael Luchies, "The Importance of Being an Unselfish Storyteller"
Seek professional help!
I was confident in my original topic, but was scared to share it. We were encouraged to work with a professional coach well in advance of our talk, but I held off. "I got this! I don't need help, they will just make it harder," I thought. Finally, after another speaker told me of their experience with the coach, I gave in and gave him a call.
The coach, Brad Boyer, did make it harder, but he helped me get from a crappy place to an impactful speech. My final talk was 10x better than what I was originally planning on sharing on stage. Don't be too cocky or too scared to do everything you can to increase the potential impact of your talk. Speech coaches do this for a living for a reason.
Two weeks leading up to the talk, I also recorded and shared the recording nearly every day with people in my network. My one piece of advice if choosing to get a lot of feedback is knowing what to listen to and what to ignore. I got some feedback that was 100% opposite of what I had previously received.
Nicole Loftus, "How Something You Do Every Day Gets $2.5 Trillion to Entrepreneurs"
Watch Curator Chris Anderson¹s Talk "What Makes a Great TED Talk" multiple times.
Liz Flores, "You Are Made for More"
I received some great storytelling advice and so I'll pass it on: Tell everyone. Share your story with everyone. Your taxi driver, the barista, the store clerk. You'll quickly learn what parts to keep and what parts to take away.
Elisabeth Cardiello, "The Most Powerful Question You Never Considered"
Ask yourself how your story has the power to help, change, support, enlighten or inspire others and write it as though you're talking to the one person in the room whose life you'd like to touch.
It is not possible for your brain be in a state of gratitude and also experience fear…so, if you're a little nervous about standing on a stage in front of all those people, just choose to be overwhelmingly grateful for the experience and relish every second of it – that way, fear won't stand a chance of creeping in.
Kali Lewis, "My Semester in the Future"
In the months leading up to my talk, I was having conversations about my topic weekly if not daily. It helped to work out the kinks in my thoughts and gather opinions of others which was useful when it came time to actually outline my talk and consider my audiences. Once I finished an outline, I talked through that with people and with their help my talk became something I would never have come up with on my own.
Watch all of the 2015 TEDxNormal Talks on YouTube