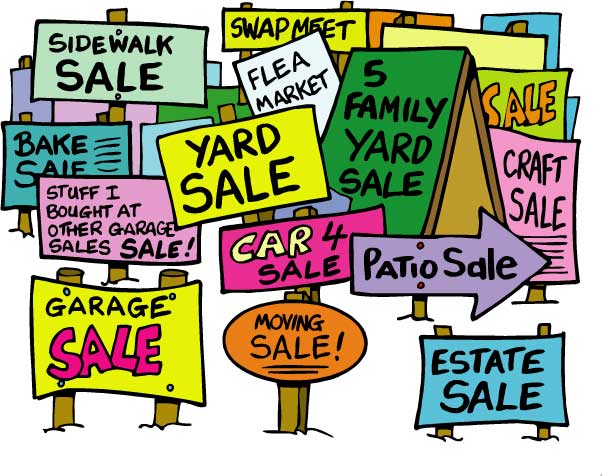 Every week, over
$4 million
worth of goods are sold at 165,000 garage sales in America. From stuffed animals to antiques, you never know what your neighbor is going to sell.
For as long as I can remember, I've been buying items at garage sales to resell them. We'd go from house to house looking for things priced cheap enough to make money off of.
It's not hard to find a good deal. According to Statistic Brain, the average profit margin for an item purchased at a yard sale and resold on eBay is an incredible 462%.
I didn't realize it until recently, but buying items to sell at garage sales was my first entrepreneurial experience. I learned a lot of lessons that have helped me in future ventures and will help me this weekend as I go out searching for good deals once again.
Negotiating
Haggling has always made me uncomfortable, but it gets easier the more you do it, and negotiating is acceptable at garage sales. Every dollar saved is a dollar of profit when looking to resell items. It took a while, but I've found a sweet spot where I'm comfortable bundling a couple of items together and offering a dollar or two lower than the asking price.
Tip 1: If looking to negotiate at a garage sale, bring change with you and lots of one dollar bills.
Tip 2: I've always seen offering half or lower than half of the asking price an insult. If an item is at $10, you can offer $6, and they may counter with $8. It's really up to what you're comfortable with.
Networking
If you visit ten different garage sales in any given day, you'll meet ten very different people managing their garage sales. Building rapport may seem worthless during a five-minute stop at a garage sale, but being friendly and speaking with them can break the ice to allow you to negotiate or even lead to future opportunities.
Tip: I always say hello when walking up to a sale and thank you when leaving even if I didn't decide to make a purchase.
Evaluating a Deal
There's a lot of thought that goes into purchasing items to resell, especially when selling online. Each purchase needs to be evaluated based on the purchase price, potential selling price, the time needed to list and ship the item, fees charged by eBay or an auction house, and anything else that factors into the buying and selling of an item.
Tip: I have to be fairly certain that I can double my money after eBay fees in order to make a purchase. Also, I won't purchase an item unless it will sell for at least $4-5. I'll make an exception for a group of small toys that are priced at twenty-five cents and worth a few dollars each.
Sales
E-commerce has made selling online fairly easy, but there are a lot of tasks involved with selling something online. You have to stage the item (clean it, place in a lighted place), take quality pictures, write an attractive description, list the item, price it, answer questions from buyers, package the item, and ship it. This process along with keeping track of purchases, expenses, and revenues is a lesson in business in itself.
Tip: Keep all receipts and a log of purchase prices, fees, shipping costs and revenue. It's hard to determine how well you're doing unless you are carefully tracking your progress.
What have you learned from going to garage sales?--
Michael Luchies
is the Founder of
TrepRep
, Entrepreneurship Lecturer at Illinois State University, Co-Host of the
Entrepreneurs on Campus Radio Show
, and Co-Host of the
Trepidemic Podcast
. Connect with Michael on
Twitter
. Michael is publishing 365 times in 2015. To find out why, read the
first post of the year here
!