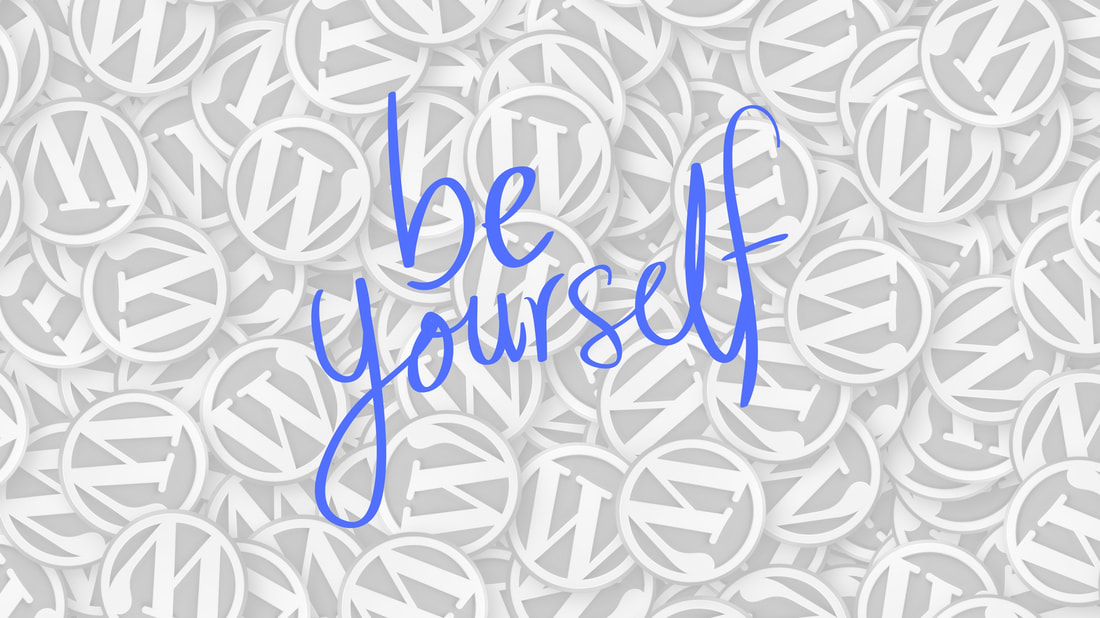 Being yourself pays. When writers and small business owners take themselves out of their writing, they're making a huge mistake.
People connect with other people.
The more you can be yourself while blogging for your business, the better the chances that you will connect with the people reading what you're writing. And developing a connection with someone can turn them from a stranger into a raving fan who is more than happy to buy whatever it is you're selling. But you have to sell them on you first.
Regardless of what you're writing a blog post about, you need to insert little bits of yourself throughout. This is easier said than done, but with a little practice, you'll be sprinkling bits of yourself in everything you write, and what you write will be more powerful because of it. Here are a few tips for being yourself while writing blog posts.
We learn through stories. Sharing a story in a blog post is a great way to engage your audience and create an instant connection. Just think of the way you feel about your favorite directors and authors—you love them because they've found a way to entertain and engage you, and bring you into their story.
If you don't have a personal story or personal experience with the topic you're writing about, you either need to be really good at research and find other ways to connect with your audience, or pick a different topic to write about. The easiest way to insert yourself in a blog post is by sharing an example or telling a story connecting you with the topic you're writing about. Not only will the reader learn something about you, they will also gain trust in your knowledge of the subject.
The act of writing for other people to read feels empowering, and it can cause writers to talk down to their readers. Don't get so focused on proving yourself as an expert that you forget to be human. I like to admit things in my writing to show the reader that I'm just like they are (because I am) and I make mistakes and suck at things too (probably even more than my reader).
As long as what you're admitting to doesn't strip away the interest or trust of the reader, like a paramedic admitting they cheated on their exam and have no clue how to give you CPR, feel free to admit something. The more personal, the better.
A footer or bio inserted in your blog posts can give your audience a snapshot of who you are and why they should care. The above footer is from a LinkedIn post from Steven Rosen. It promotes his personal brand, expertise on management, and promotes his success guide.
Your blog posts need to be about your reader, but that doesn't mean you can't add information about yourself. Add a footer to your posts (or a bio line at the beginning) that give a few sentences of background and a link or two for people to learn more about you.
Another way to give them a piece of yourself is by giving them something visual. Add a picture to your bio or footer or add a quick video to your blog post. This may be the last thing you want to do (show pictures of yourself), but as a reader, we appreciate being able to see the author.
Offer them Something Personal
If someone gives you something, you remember them. If you can give your audience something of value and of a somewhat personal manner, you instantly create a stronger bond with that person. Giving something personal away in a blog post sounds odd, I know, but this can be as simple as an offer to email you directly, schedule a free 15-minute phone call, or invite them to a live webinar you're hosting like
Vikki Thomas
does in the image above. Give them opportunities to get to know you better while gaining value from that exchange—you'll both be better off for it.
Michael Luchies
is a writer for entrepreneurs. He is the Founder of content marketing agency
TrepRep
, Communications Manager for After School, Entrepreneur Magazine Contributor, Content Advisor for Mavidea, Copywriter for Propllr,
Skillshare teacher
, and TEDxNormal alum
. Connect with Michael on
Google+
,
LinkedIn
,
Facebook
and
Twitter
.