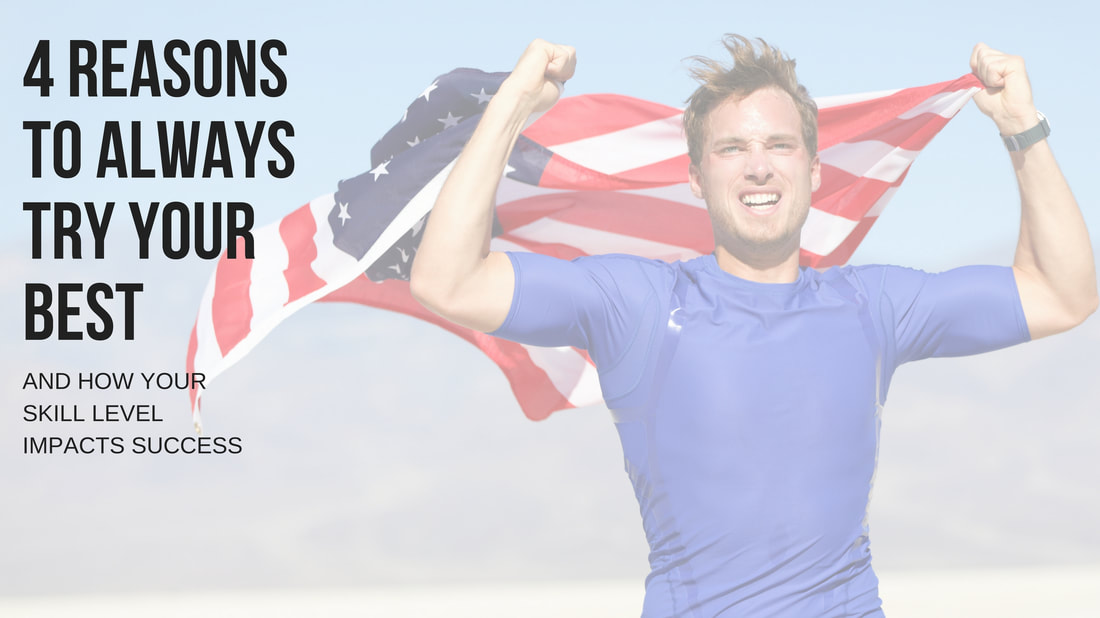 "You can only do your best. That's all you can do. And if it isn't good enough, it isn't good enough,"
Imelda Staunton
once stated. I don't buy it, at least in the world we live in today. Your best doesn't even need to be good enough. Let me explain.
​
While driving a couple of days ago, I thought about the saying, "Always try your best." I have no idea where it came from, and I'm aware of how basic and cliche the quote is, but the more I thought about it, the more fascinated I became with the outcomes of trying your best.
I came up with
four best-case scenario results
from trying your best based on your skill level, from being a skilled expert at something to being absolutely terrible at it. Obviously, trying your best means giving something your all, and it requires the highest level of interest and dedication. What trying your best doesn't require is skill or natural ability.
Here are four outcomes of trying your best based on your skill level:
If you're amazing at something—say a savant or virtuoso—trying your best will usually result in dominance and people will recognize you for it. You will stand out in any crowd and rise to the top of your field, art, practice, etc.
The only thing that could stand in your way is yourself, although some people are so talented that they barely have to try. This is a one in a million scenario, so don't rely on being so good that you don't even have to try in order to be the best at what you do.
The world is in need of good talent that tries hard. Look at professional sports. On the bench of every team are players who are good and willing to give everything they have in order to live the life and work the profession of their dreams. They often rise above those who are more talented but less willing to make sacrifices.
If you are good and give something your very best, you will rise above most, including those far more talented who are relying on their talents instead of working harder than everyone else.
Even the average, when trying their best, can accomplish great things. I was recently watching the main event of the 2017 World Series of Poker. Out of 7,000 poker players, most of them professional, 64-year-old John Hesp made the final table (meaning only nine players were left). While most of the other participants had won hundreds of thousands of dollars playing poker (if not millions) in their careers, Hesp had a career poker earnings total of just over $2,000. He wasn't bad at poker, but on this level of competition, he was an amateur and considered an average player at best.
John finished fourth and won over $2 million. Several poker professionals applauded Hesp, not only for his play, but for being good for the game. People who rise above what should be their ceiling (the limit of their potential) help others realize what's possible if you try your best.
"Going viral" is something desired by nearly everyone who is trying to develop a following online. Unfortunately for the many who are trying, the formula for success is cloudy and different for each person. What does tend to go viral is when people who are terrible at something try their very best.
When your best isn't good enough, it could just be bad enough to help you become overwhelmingly successful. Although you may not want to be known for doing something "so bad it's good," there is a place for these people in the world and in our hearts. There is no industry like entertainment and showbiz for the talentless trying their best and becoming known throughout the world. The otherwise unspectacular William Hung, Tommy Wiseau, Rebecca Black, and countless others have built fan bases from being bad at what they love doing, and who knows, maybe you can too.
So, while not everyone can be successful, everyone has a shot at it. Give your very best, and there's no telling what will happen. Even if you're bad, you might succeed just from trying.